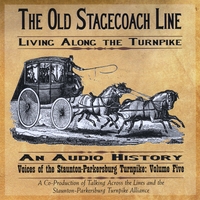 The Old Stagecoach Line: Voices of the Staunton-Parkersburg Turnpike
Who first settled the hills and valleys now known as north central West Virginia? Indians traveled, hunted and sought shelter here until Europeans took over the region. A wealthy Irish couple built a mansion of dreams on Blennerhassett Island in the middle of the Ohio River. Soon Europeans of all stripes collided in these wild lands, bouncing and bumping along the new frontier. By the early 1800s plans were being made for a road connecting eastern and western Virginia, and by 1847 hardworking engineers and hand diggers had carved out a rudimentary road, the Staunton-Parkersburg Turnpike. Waystations sprang up for travelers to break bread, toast a cold night, and exchange tired horses for fresh ones. Lively communities were born around gristmills and general stores.
Laugh a while with speakers in this first-hand account as they recollect driving the old road in the first clunky autos of the day. Picture crews of prisoners grading the Turnpike. Commune with people who survived the Great Depression by reaching out to neighbors. Imagine big boys climbing out the window of a one-room schoolhouse while the teacher looked on. Learn how old timers kept healthy drinking from clear springs, making homemade potions, and gathering in for community work frolics, sharing memories wrapped in the tapestry of grandma's quilt.
Early Settlement by Europeans and Indians