Michael & Carrie Kline
Links to recent broadcasts: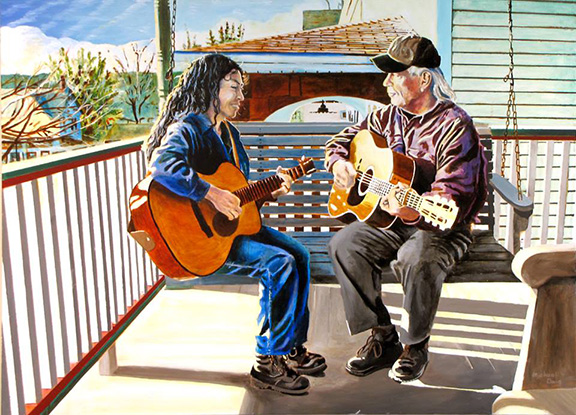 Painting by Michael Doig.
"Eye-opening, provoking, educational. Carrie and Michael have so much to share and are great teachers. They planned a wonderful week for us. I can't say enough good things about my Oral History class and teachers."

-Evaluation from "Listening for a Change" Student

"Michael and Carrie Kline have introduced hundreds of students to the sounds and songs of their community. . . . There is no one we've encountered who can mesmerize fifty 5th graders at once with songs of love and tribulation."

-Nathan Hayes

Program Manager, The Mountain Institute, Circleville, WV

"Michael and Carrie Kline are not only exceptional musicians with a great knowledge of their music and its roots, but they have a wonderful ability to use their music to educate audiences about historical and cultural events as well. Very few musicians I've heard can transport listeners so fully to another time and place as they can. "

-Elizabeth Altemus

Pendleton County Committee for the Arts, Franklin, WV

"Michael and Carrie Kline have a long-respected tradition in the folklore and music worlds. They are recipients of several fellowships which have led to numerous recordings. This top-notch research comes out on stage, captivating the audience and stirring the emotions."

-Sparky & Rhonda Rucker

Modern Day American Folk and Blues Legends

"Their voices carry the songs with truth and authenticity, without a hint of pretense or affectation, and their guitar accompaniments are excellent, just what the songs call for. With their vast knowledge of West Virginia history and culture you can be assured their concerts are not only a treat for the ear, but a journey into the depth and breadth of the real Appalachia and beyond."

-Magpie

Bringing the People's History Alive Through Music
Upcoming Events
Monday, July 13, 2020 - Thursday, July 16, 2020

Raising our Voices: Songs of Resistance in the Appalachian Coal Fields, Frack Fields and Beyond

We offer this class, teaching students to sing these songs by heart and with gusto, Mon. through Thursday evening through the Augusta Heritage Center at Davis and Elkins College in Elkins, WV.  We have teaching techniques that make the songs really stick! No solo singing required. Perfect for any age or level.

To sign up, scroll down here to "Evening Mini-Classes" and follow the process! You may also register in person at the Augusta office through noon on July 13.

Here's a course description:

Song is a powerful organizing tool in the throats of such change agents as Woody Guthrie, Pete Seeger, Hazel Dickens, Jean Ritchie, Billy Edd Wheeler and others. Incredible labor struggles fought over months and years on dangerous picket lines have been inspired and sustained through songs whose images and messages were derived from the experience and aspirations of grassroots workers. This mini-class will present and teach students to sing formative songs which jump-started labor struggles, forging courage and union solidarity among militant workers, and helped bolster the unemployed. We will also introduce contemporary music of resistance to gas pipelines, and teach songs of hope that span national and global themes. Michael and Carrie Kline have sung and shared these songs on picket lines, marches, classrooms and in trainings across Appalachian coalfields and beyond. In four evening class sessions we will review and teach as many songs as time permits, along with their historical context.

Thursday, July 16, 2020

From Heres and Come Heres: An Evening of Oral History Interviews and Local Music

Taking place at the 1863 Appalachian Bistro at 830 Harrison Ave. in Elkins, we offer this new Third Thursday monthly event in three parts.

Come at 6:00 p.m. if you'd like to order a meal.

7:00 p.m. Enjoy a double-header interview, with a West Virginia native and with someone who has come to the Mountain State to live.

8:00 p.m. Settle in for music related to the evening's stories.

Sunday, July 19, 2020 - Friday, July 24, 2020

Old-Time Ballads of West Virginia's Allegheny Highlands

This class is part of a new West Virginia Folklife & Old-Time Music Week at the Augusta Heritage Center at Davis and Elkins College in Elkins, WV.  Click here to register. You save $40 on tuition by signing up before June!

In this week of eye-to-eye and knee-to-knee sharing of West Virginia ballads, we will teach the vocal techniques and styles learned firsthand from such legendary singers as Currence Hammonds, Maggie Hammons Parker, Phyllis Marks, Hazel Stover, Wavey Chappel and others. These ancient ballads, one of which dates to the time of Beowulf in the Ninth Century and passed down through the oral tradition over sixty generations, are vivid windows into life and love in earlier times. Interspersed between the songs we will recount stories of the singers themselves and tales from folkloric fieldwork. We will use traditional teaching methods through cultivated listening and absorption, rather than printed notes and texts. Students will be encouraged to use small recorders to document the songs and class discussions of contexts and meanings for further reference following the class.

No previous singing experience necessary; no solo singing will be required. These are full-throated, compelling songs of the heart and soul which will overtake you and change the way you feel and view the past.
Events Page
We offer ongoing performances and tours for those visiting West Virginia. Book a Tour.
Talking Across the Lines Featured Product
Written in Blood: Courage and Corruption in the Appalachian War of Extraction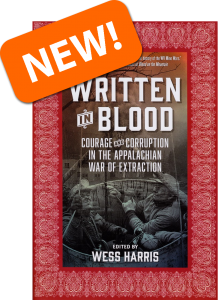 Written in Blood features the work of Appalachia's leading scholars and activists, making available accurate, ungilded, and uncensored understanding of history. Includes feature articles by Michael and Carrie Kline.
CDs, Books & Downloadsfor Sale