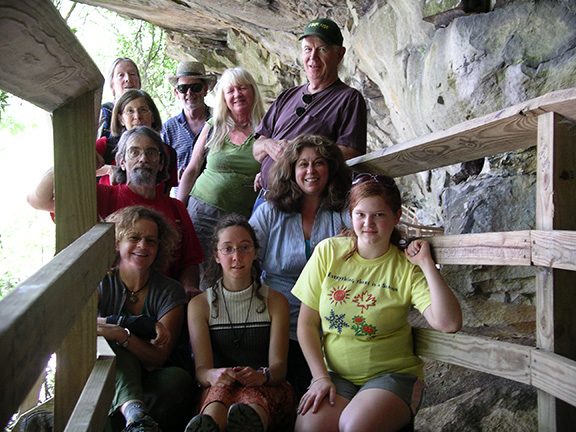 "Carrie and Michael live and breathe Appalachian culture and music. Their voices carry the songs with truth and authenticity, without a hint of pretense or affectation, and their guitar accompaniments are excellent, just what the songs call for. With their vast knowledge of West Virginia history and culture, and their deep roots in the mountains, you can be assured their concerts are not only a treat for the ear, but a journey into the depth and breadth of the real Appalachia and beyond." — Magpie, Bringing the People's History Alive Through Music
"Michael and Carrie Kline have a long-respected tradition in the folklore and music worlds. They are recipients of several fellowships which have led to numerous recordings. This top-notch research comes out on stage, captivating the audience and stirring the emotions." — Sparky and Rhonda Rucker, Modern Day American Folk and Blues Legends
"When Carrie and Michael Kline make music you will know that they believe deeply – in the power of the songs they sing, in each other. Two souls united, two hearts as one." — Joe Herrmann, Critton Hollow String Band
Michael and Carrie have performed in Italy, Germany, and the United States. They bring their tight mountain harmonies to living rooms, conference centers and concert halls from Maine to Kentucky, New York City and Washington, D.C., Wisconsin, California and Europe.
Michael and Carrie Kline present their music both as entertainment and social history, with engaging ease and hard-hitting passion. Michael and Carrie have spent years recording music and spoken narrative in Cherokee, North Carolina, the Appalachian coalfields and mountainside farms, along with industrial cities from Cincinnati to New England. The Klines' high mountain harmony vocals meld with their intertwining bass lines on two guitars, with Michael Kline's melodic flat-picking guitar playing and Carrie's dynamic backup.
Michael and Carrie Kline weave West Virginia stories and folklore with spine tingling harmonies on voice and guitar. To hear them and be invited to join in on a chorus is to be transported to a country church, a one-room school, or grandma's kitchen. From songs such as Walk with Granny One More Time, to The Coal Tattoo, and gospel numbers such as Turtle Dove and Love Like This Was Never Known, the Klines evoke the times that really matter, time with family and friends, spiritual times, wrapped in a patchwork quilt of vivid images. Kitchen songs. You can smell the biscuits baking.
"We, as musicians, are preoccupied with West Virginia songs, from the ancient ballads of the Hammons Family in the central highlands, to mining laments and songs of resistance in the coal fields. We enjoy love ballads and country songs as well, especially the poignant imagery of Kate Wolf and Laurie Lewis.
"As two people absorbed in the study of oral tradition, we visit with old-time singers and tellers living in the Appalachian region. Singing to audiences of all ages, we perform in a variety of situations, from classrooms to prisons, from coffeehouses to picket lines.
Workshops in Oral History, Folklore and Music
"In addition to giving concerts, we teach and lead workshops, field schools and community trainings. Our expertise blends oral history with public folklore and audio production. We teach interviewing techniques geared toward gathering oral testimonials. We also teach about folklore and the power of the oral tradition, combining our own live musical performance with examples from our audio productions to unveil the lives of Americans not generally included in mainstream debates."
Click on Soundbytes above to hear music from our classes!
Workshop & Concert Locations Have Included:
Umbria Folk Festival [Orvieto, Italy]
Bamberg Opera House [Bamberg, Germany]
Carnegie Hall [Lewisburg, WV]
San Geronimo Valley Community Center [San Geronimo, CA]
Unitarian Universalist Church of Davis, CA [Davis, CA]
Calliope's Pittsburgh Home Companion Concert Series [Pittsburgh, PA]
Brazen Head Inn [Mingo, WV]
Oglebay Institute's Mountain Moon Coffeehouse [Wheeling, WV]
Augusta Festival [Elkins, WV]
Fort New Salem Front Porch Concerts [Salem, WV]
New Hampshire World Fellowship Center [Albany, NH]
And house concerts in many locations throughout the U.S.
See also:
https://www.recorder.com/AC-SoundsLocal-092221-42624033
Sounds Local: Duo brings Appalachian folk tunes to Sunderland
If you head to the Bridgeside Grille in Sunderland this Sunday for brunch, you'll be able to enjoy some Appalachian folk tunes courtesy of Michael and Carrie Nobel Kline. The Klines recently returned to the area, and the story of how they came to be performing this music and living in Sunderland is an interesting one.
If there was ever a couple that was meant to be together it is these two musicians. The pair met over 30 years ago at a rally in support of Colrain residents Randy Kehler and Betsy Corner who were losing their home to the IRS for refusal to pay war taxes.
"Michael had written a beautiful ballad about Randy playing 'Ave Maria' when the marshal came to arrest him," recalled Carrie in a recent phone conversation. "I remember seeing Michael at this rally in February and he was playing the song and it was so cold, I was wondering how he could move his hands to play guitar."
At the time, Michael was a folklorist for the Pioneer Valley Folklore Society (PVFS) and Carrie was working for the Institute for Community Economics helping to create affordable housing. The pair got to know each other through the war tax-refuser movement and Carrie would also see Michael playing guitar at local contra dances sharing the with musicians like David Kaynor.
The two soon discovered they had a shared love of social activism, folk life documentation and old-time singing.
Carrie played guitar and sang and when they first played music together they quickly discovered that they knew some of the same Appalachian ballards and work songs, having lived in some of same places in West Virginia and Virginia. Their first actual show was opening for Utah Phillips and took place in Heath.
What's surprising about their deep appreciation for the music of Appalachia is they both hail from cities. Carrie was raised in New York City and Michael spent time growing up in Washington D.C.
But the love of music came naturally.
Carrie said her mother was always playing the folk music of the Weavers, Pete Seeger, and Woody Guthrie. And after she saw the 1976 Guthrie biopic "Bound For Glory" she became interested in the stories of the people that inspired all these songs.
"I felt the need to experience the kind of lives these people in the songs were living, so a couple of days after graduating high school I went to West Virginia and got a job at the Appalachia Folk Center," Carrie explained. She said this is a special place where people get to know their history and fight what people call the "brain drain" in Appalachia.
Michael's story really begins at the age of 7 when his father bought an old farm in West Virginia to expose his kids to rural life. The minute he set foot on West Virginia soil, he said his life completely changed and the area became the object of his affection and commitment. He continued attending school in Washington D.C., but said it felt like doing time because he only wanted to be in West Virginia. He was more comfortable there, in part, because he had an undiagnosed case of dyslexia that led to him being more comfortable in a community that didn't focus as much on book learning as it did on the oral tradition.
"I was an oral historian by the age of 11," he said. And there was the music. Michael learned to play guitar and learned the songs of the Carter Family and others.
"It's amazing we met here in Western Massachusetts," said Carrie. "We had these common repertories and we had been in the same places — only 20 years apart. So we were deeply bonded and woven together."
The couple married in 1992 and by then Carrie had started working as an intern at the Pioneer Valley Folklore Society. Funding for folklore projects was drying up when they received a phone call from a U.S. Park Service staffer inviting them to come to Wheeling, West Virginia to conduct an extensive ethnographic survey of the people.
"We did about 170 interviews and recorded every neighborhood, industry and ethnic background," Michael said. "It was a great experience and our first as folk life contractors."
The couple remained in West Virginia for almost 30 years, and during this time did extensive research into the history and culture of Appalachia, including the deep musical heritage of the area.
"It's a place rich with music," said Carrie. "There's so much that people have lost in Appalachia and that has been robbed from them. But you can't take music from people. It just grew and grew and grew and it seems like it's in people's blood."
Their work brought them to other parts of the county such as Maine and North Carolina, where they studied and interviewed various groups of people whose voices weren't being heard but had stories that needed to be told. They documented all this information and have shared it through their teaching, writings and podcasts. And more recently Carrie explored how transgender and gay people were treated in Appalachia and turned what she learned into a play.
The music was always an important part of their work and lives. They released five albums that range from "Damp as the Dew," which are songs that pay tribute to the coal miners of West Virginia, to "Eyes of the Painter" that is a collection of songs from the area. And performing this music they love has always been a big part of what the Klines do.
"We just kept cultivating our musical journey together," said Carrie. "Our musical love threaded through our folk life documentation, and that has continued. We've documented African American sacred music and other music of the Chesapeake Bay area. We spent four years there and took some of the music from there back to West Virginia and now back to western Massachusetts."
About a year and a half ago, they purchased a home in Sunderland, and much like their initial meeting there was a bit of kismet involved. They were happily settled in Elkins, West Virginia and had no plans to move when they received a phone call from Carrie's sister saying a house in her neighborhood was for sale. The Kline's decided to buy the house sight unseen.
"We felt this call to return to family and a lot of the models of social living we were aspiring to in West Virginia were well at work in Western Massachusetts," said Carrie. "But still it was a big surprise to us."
Now that they have settled here, they are especially excited about the Valley's great music scene. The Klines have hooked up with some musicians in an old-time jam and at the time of our conversation had enjoyed a show at the 1794 Meetinghouse the night before.
The couple are looking forward to bringing their music to area audiences and their first gig here, which was also their first show in almost two years, happened at the Bridgeside Grille in Sunderland.
"It was so powerful to be back on stage," said Carrie of the show. The Klines, who are joined by bassist Joe Blumenthal of Northampton, will be playing at the restaurant every other Sunday. Their next show is this Sunday, Sept. 26. They play outside on the covered deck from 11 a.m. to 1 p.m.
"We do Appalachian traditional and contemporary songs, love songs and music of people and nature — all in tight, high mountain harmony on two voices and guitars," explained Carrie.
And while both Carrie and Michael have done some songwriting, they largely draw upon other people's music, which means they have to love the lyrics.
And they continue their folklore work and conduct interviews under their "Talking Across the Lines" program.
The move back to the Valley has been a good one for the Klines.
"When I first came here to be the folklorists, I learned what an incredibly diverse Valley it is and there's a lot to love about it here," said Michael.
"And to be back, it's new and it's old and it's completing a circle and starting new ones," Carrie added.
To learn more about the music and work of Michael and Carrie Kline visit folktalk,org
Sheryl Hunter is a music writer who is a native of Greenfield and currently resides in Easthampton. She can be reached at [email protected]