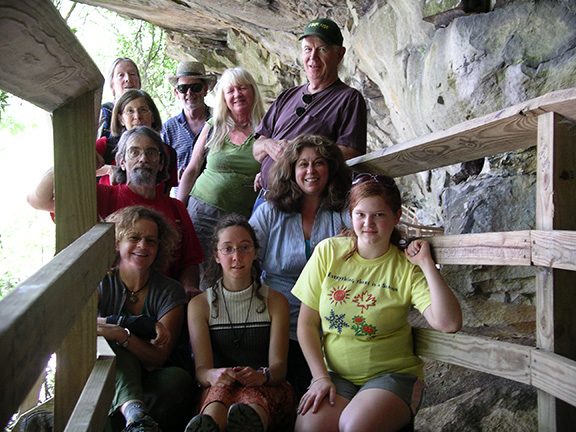 "Carrie and Michael live and breathe Appalachian culture and music. Their voices carry the songs with truth and authenticity, without a hint of pretense or affectation, and their guitar accompaniments are excellent, just what the songs call for. With their vast knowledge of West Virginia history and culture, and their deep roots in the mountains, you can be assured their concerts are not only a treat for the ear, but a journey into the depth and breadth of the real Appalachia and beyond." — Magpie, Bringing the People's History Alive Through Music
"Michael and Carrie Kline have a long-respected tradition in the folklore and music worlds. They are recipients of several fellowships which have led to numerous recordings. This top-notch research comes out on stage, captivating the audience and stirring the emotions." — Sparky and Rhonda Rucker, Modern Day American Folk and Blues Legends
"When Carrie and Michael Kline make music you will know that they believe deeply – in the power of the songs they sing, in each other. Two souls united, two hearts as one." — Joe Herrmann, Critton Hollow String Band
Michael and Carrie have performed in Italy, Germany, and the United States. They bring their tight mountain harmonies to living rooms, conference centers and concert halls from Maine to Kentucky, New York City and Washington, D.C., Wisconsin, California and Europe.
Michael and Carrie Kline present their music both as entertainment and social history, with engaging ease and hard-hitting passion. Michael and Carrie have spent years recording music and spoken narrative in Cherokee, North Carolina, the Appalachian coalfields and mountainside farms, along with industrial cities from Cincinnati to New England. The Klines' high mountain harmony vocals meld with their intertwining bass lines on two guitars, with Michael Kline's melodic flat-picking guitar playing and Carrie's dynamic backup.
Michael and Carrie Kline of Elkins weave West Virginia stories and folklore with spine tingling harmonies on voice and guitar. To hear them and be invited to join in on a chorus is to be transported to a country church, a one-room school, or grandma's kitchen. From songs such as Walk with Granny One More Time, to The Coal Tattoo, and gospel numbers such as Turtle Dove and Love Like This Was Never Known, the Klines evoke the times that really matter, time with family and friends, spiritual times, wrapped in a patchwork quilt of vivid images. Kitchen songs. You can smell the biscuits baking.
"We, as musicians, are preoccupied with West Virginia songs, from the ancient ballads of the Hammons Family in the central highlands, to mining laments and songs of resistance in the coal fields. We enjoy love ballads and country songs as well, especially the poignant imagery of Kate Wolf and Laurie Lewis.
"As two people absorbed in the study of oral tradition, we visit with old-time singers and tellers living in the Appalachian region. Singing to audiences of all ages, we perform in a variety of situations, from classrooms to prisons, from coffeehouses to picket lines.
Workshops in Oral History, Folklore and Music
"In addition to giving concerts, we teach and lead workshops, field schools and community trainings. Our expertise blends oral history with public folklore and audio production. We teach interviewing techniques geared toward gathering oral testimonials. We also teach about folklore and the power of the oral tradition, combining our own live musical performance with examples from our audio productions to unveil the lives of Americans not generally included in mainstream debates."
Click on Soundbytes above to hear music from our classes!
Workshop & Concert Locations Have Included:
Umbria Folk Festival [Orvieto, Italy]
Bamberg Opera House [Bamberg, Germany]
Carnegie Hall [Lewisburg, WV]
San Geronimo Valley Community Center [San Geronimo, CA]
Unitarian Universalist Church of Davis, CA [Davis, CA]
Calliope's Pittsburgh Home Companion Concert Series [Pittsburgh, PA]
Brazen Head Inn [Mingo, WV]
Oglebay Institute's Mountain Moon Coffeehouse [Wheeling, WV]
Augusta Festival [Elkins, WV]
Fort New Salem Front Porch Concerts [Salem, WV]
New Hampshire World Fellowship Center [Albany, NH]
And house concerts in many locations throughout the U.S.
See also: