Revelations is a theatrical presentation about Appalachian resiliency in lesbian, gay, bisexual and transgendered people written and produced by folklorist Carrie Nobel Kline, Spring 2001 Rockefeller Fellowship recipient and Scholar in Residence at the Center for the Study of Ethnicity and Gender in Appalachia at Marshall University in Huntington, West Virginia.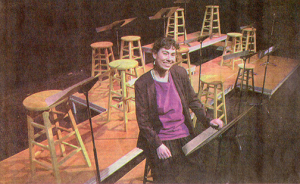 "As I run into members of our "Revelations" cast in and around town, we are in complete agreement about how Carrie and Michael created in us a very special community, and changed us. We are bound in a special unity."   —Cast member
In Revelations, Carrie interweaves oral testimonials of lesbian, gay, bisexual and transgendered West Virginians. Carrie explains,
"This 13-person reader's theatre performance illuminates these West Virginians' determination to express themselves in a way that is worthy of respect and admiration. Revealing their paths toward self-acceptance, audience members will glean a fresh perspective on concepts of gender from people who have broadened their own views through complex intellectual and spiritual journeys."
In the course of her Rockefeller Fellowship, Carrie Nobel Kline conducted a dozen interviews with lesbian, gay, bisexual and transgendered people. One interviewee is from outside the Appalachian region, and the rest are from West Virginia. The focus of Kline's research is on resiliency, especially Appalachian resiliency. Because of the confidentiality of the field research, she chose to employ actors to read the words of those interviewed. Revelations focuses on people's paths to hard won self-acceptance and their journeys toward a fuller sense of humanity.
Carrie Nobel Kline continues to conduct recorded interviews with gay, lesbian, bisexual and transgendered people from small towns and rural areas. Anonymity is guaranteed unless otherwise specified by those interviewed. To get involved in this project, contact Carrie Nobel Kline.
Transcript of a review of Revelations aired on West Virginia Public Radio