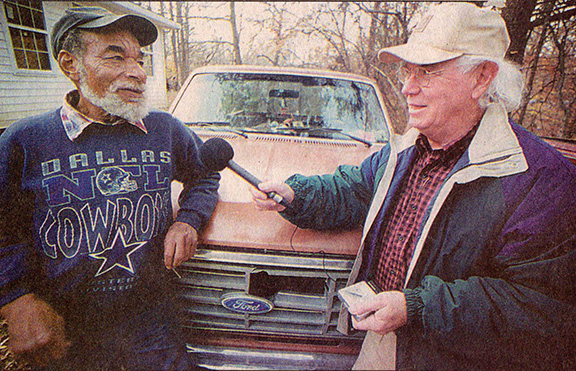 Talking Across the Lines, LLC creates audio walking tours, audio driving tours and audio histories for cultural heritage tourism efforts. We strive to create productions which are as suitable for listeners who are driving, walking, in the classroom at most any age, or simply at home. Where possible our productions flow from the voice of one local speaker to another, with homegrown music in between. Changing speakers often, and with little emphasis on an outside narrator, both listeners and stakeholders in local history enjoy the experience of hearing tales of the past through the voices of those who lived it.
Talking Across the Lines has created eleven audio productions featuring life in West Virginia's Allegheny Highlands, including a seven-part series on life along the historic Staunton-Parkersburg Turnpike.
Pendleton County Chamber of Commerce commissioned us to create four CDs depicting the culture and history of each of the county's distinct river valleys and the county seat of Franklin. These productions, while suitable for home, classrooms or road travel anywhere, are sold by the county chamber along with a map, encouraging visitors to travel off the beaten path, hearing stories of small town and rural life history as recalled by local residents.
Talking Across the Lines has also produced a walking tour for Historic St. Mary's City. Visitors can walk through a park, visiting sites constructed on the footprint of 17th century structures, and press a number to hear one of 40 stops on the tour.
Click the Soundbytes button above to hear samples of the tours, mixed as they are with local music and ambient sound.
Click the In the News button above to read more about the tours.
Contact us if you are interested in having an audio tour bring to life the history and culture of your community.