Michael & Carrie Kline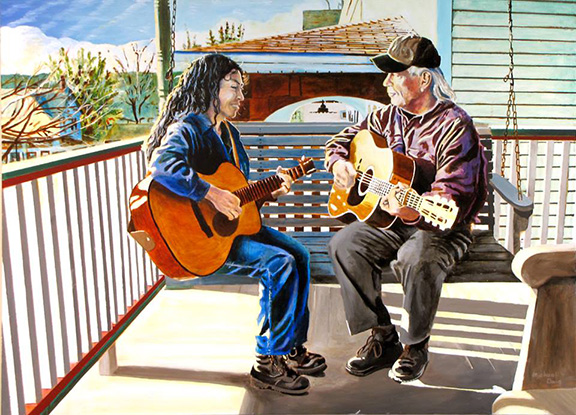 Painting by Michael Doig.
"Eye-opening, provoking, educational. Carrie and Michael have so much to share and are great teachers. They planned a wonderful week for us. I can't say enough good things about my Oral History class and teachers."

- Evaluation from "Listening for a Change" Student

"Michael and Carrie Kline have introduced hundreds of students to the sounds and songs of their community. . . . There is no one we've encountered who can mesmerize fifty 5th graders at once with songs of love and tribulation."

- Nathan Hayes

Program Manager, The Mountain Institute, Circleville, WV

"Michael and Carrie Kline are not only exceptional musicians with a great knowledge of their music and its roots, but they have a wonderful ability to use their music to educate audiences about historical and cultural events as well. Very few musicians I've heard can transport listeners so fully to another time and place as they can. "

- Elizabeth Altemus

Pendleton County Committee for the Arts, Franklin, WV

"Michael and Carrie Kline have a long-respected tradition in the folklore and music worlds. They are recipients of several fellowships which have led to numerous recordings. This top-notch research comes out on stage, captivating the audience and stirring the emotions."

- Sparky & Rhonda Rucker

Modern Day American Folk and Blues Legends

"Their voices carry the songs with truth and authenticity, without a hint of pretense or affectation, and their guitar accompaniments are excellent, just what the songs call for. With their vast knowledge of West Virginia history and culture you can be assured their concerts are not only a treat for the ear, but a journey into the depth and breadth of the real Appalachia and beyond."

- Magpie

Bringing the People's History Alive Through Music
Upcoming Events
Friday, June 30, 2017

Wild and Wonderful Crafts Fair 12:30-2:00 P.M. Music Set, Ripley, WV Fairgrounds

Saturday, July 08, 2017

10 a.m. – 2:30 p.m. Workshop: Appalachian Singing in Sacred Places In Plum Grove Church, 7–8 p.m., Evening Concert, 8:15 – 10 Barn Dance, Folklore Village, Dodgeville, WI

Workshop Description: Learn to sing some of the finest Appalachian songs, whether you are a new or experienced music maker, or simply interested in gaining insight into the complexity that is Appalachia. Prepare to go down the rabbit hole together, singing from our hearts and immersing in rich imagery and melodically haunting songs, making deep connections with the culture, landscapes and history of Appalachia, and connecting with singers from generations past. Who were these singers, and how did these songs come to dwell in them? What are the hidden sources of strength of the oral tradition in these Allegheny Highlands? How and why does it persist into our own times? These recurring questions address some of the compelling qualities of the songs we will learn as we journey into traditional and contemporary expressions of Appalachian music, guided by West Virginia folklorists and musical duo Michael and Carrie Kline.

Saturday, July 15, 2017

Beverly Heritage Days Music 1:00-1:45 p.m.
Events Page
We offer ongoing performances and tours for those visiting West Virginia. Book a Tour.
Talking Across the Lines Featured Product
Truth Be Told
Special Offer! Buy now and get free shipping on TRUTH BE TOLD!
TRUTH BE TOLD follows in the tradition of WHEN MINERS MARCH and DEAD RINGERS in telling the history of West Virginia's miners in boldly uncensored fashion. TRUTH BE TOLD offers new documentation of the infamous Esau scrip used by coal companies to force sexual servitude upon women in the New River region coal camps. Similar practices elsewhere are also documented. TRUTH BE TOLD expands upon Bonnie Stewart's groundbreaking work on the Farmington No. 9 explosions. The disaster was anything but an "accident"! Read the federal mine inspector's smoking gun memo for yourself! A closing chapter by editor and sociologist Wess Harris offers a theoretical framework to suggest readers view our history through fresh lenses..... Combining readability and relevance, this anthology by some of Appalachia's leading scholars is suitable for high school and beyond.
CDs, Books, & Downloads for Sale